Posted by Troy Cosky, Founder FunGuy Grow Supply on 23rd Apr 2023
King trumpet mushrooms are a type of edible mushroom with a meaty texture and a rich, umami flavor. They are often used in Asian and Italian cuisine, and are a great ingredient for vegetarians and meat-lovers alike. In this article, we will explore five of the best king trumpet mushroom recipes that are sure to satisfy your taste buds.
Discover the Health Benefits and Cooking Tips for Black Trumpet Mushrooms
Before we dive into the recipes, let's talk a bit more about black trumpet mushrooms. Also known as black chanterelles, these mushrooms are native to North America and Europe. These fungi are highly valued for their delicate flavor and unique trumpet-like shape.
Black trumpet mushrooms are an excellent source of essential vitamins and minerals such as vitamin D, potassium, and iron, offering significant nutritional benefits. With their low calorie count and high fiber content, black trumpet mushrooms make for a wholesome and nourishing addition to any diet.
In addition to their delicious taste, black trumpet mushrooms are also packed with health benefits. They contain beta-glucans, which are compounds that help to support the immune system and reduce inflammation in the body. These mushrooms are also rich in ergothioneine, an antioxidant that has been shown to improve heart health and protect against cancer. By incorporating black trumpet mushrooms into your diet, you can enjoy their delicious flavor while reaping the benefits of this powerful antioxidant.
Where to Buy King Trumpet Mushrooms
You can find king trumpet mushrooms at many grocery stores and farmer's markets, as well as online sources like Spore to Fork. Look for mushrooms that are firm.
Cooking Tips for King Trumpet Mushrooms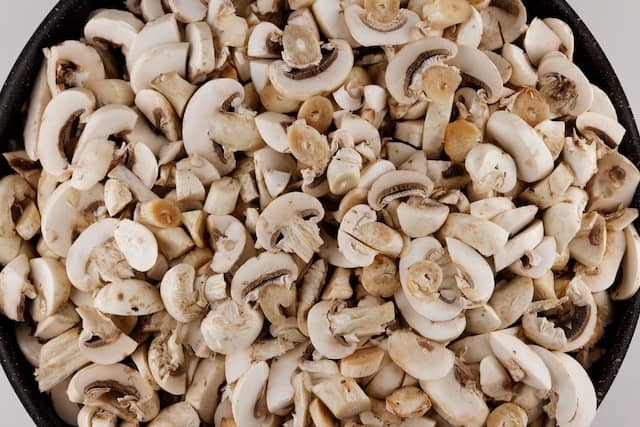 When cooking king trumpet mushrooms, it's important to clean and trim them properly to remove any dirt or debris. You can use a damp paper towel or a soft-bristled brush to gently wipe the mushrooms clean. To trim them, simply cut off the woody ends of the stems.

King trumpet mushrooms can be grilled, roasted, sautéed, or used in soups and stews. They pair well with a variety of flavors, including garlic, lemon, thyme, and chili.
Now, let's get to the recipes!
King Trumpet Mushroom Scallops Recipe
Looking for a vegetarian substitute for scallops? Try using King Trumpet Mushrooms! These mushrooms have a meaty texture that is perfect for replicating the taste and texture of scallops in a vegetarian dish. Here is how to make:
Ingredients:
4 King Trumpet Mushrooms, sliced into thick rounds

2 tablespoons olive oil

1 tablespoon lemon juice

1 tablespoon chopped parsley

Sea salt, to taste
Method:
Heat the olive oil in a large skillet over medium-high heat.

Add the sliced mushrooms to the skillet and sauté for 3-4 minutes on each side, until they are golden brown.

Drizzle the lemon juice over the mushrooms and sprinkle them with chopped parsley and sea salt.

Serve hot and enjoy the delicious vegetarian substitute for scallops!
King Trumpet Mushroom "Steaks" Recipe
For a hearty and satisfying vegetarian meal, try making king trumpet mushroom "steaks." Marinate the thick slices of mushroom in a delicious mixture of soy sauce, balsamic vinegar, garlic, and olive oil for maximum flavor. Grill or roast them until they're tender and golden brown, then serve with a side of roasted vegetables for a complete meal.
Ingredients:
4 king trumpet mushrooms, sliced lengthwise

1/4 cup soy sauce

2 tbsp balsamic vinegar

2 cloves garlic, minced

2 tbsp olive oil

Salt and pepper to taste

Roasted vegetables (optional)
Method:
In a bowl, whisk together soy sauce, balsamic vinegar, minced garlic, and olive oil.

Add sliced king trumpet mushrooms to the bowl and toss to coat with the marinade. Let the mushrooms marinate for at least 30 minutes.

Preheat grill or oven to medium-high heat.

Place the marinated mushroom slices on the grill or in the oven and cook for about 5-7 minutes on each side until tender and golden brown.

Remove from heat and season with salt and pepper to taste.

Serve with a side of roasted vegetables if desired. Enjoy your delicious and satisfying vegetarian main course!
King Trumpet Mushroom Ramen Recipe
Looking for a warm and comforting meal? Try this delicious and easy-to-make king trumpet mushroom ramen recipe that will surely satisfy your cravings.
Ingredients:
4-5 king trumpet mushrooms, sliced

1 tablespoon miso paste

1 tablespoon soy sauce

1 tablespoon sesame oil

4 cups vegetable broth

2 packs cooked ramen noodles

1 cup sliced bok choy

1/4 cup sliced scallions

2 soft-boiled eggs
Method:
In a large pot, sauté sliced king trumpet mushrooms in a mixture of miso paste, soy sauce, and sesame oil until they are slightly browned and fragrant.

Add 4 cups of vegetable broth to the pot and bring to a boil.

Add cooked ramen noodles and sliced bok choy to the pot and cook for 3-4 minutes or until the vegetables are tender.

Remove from heat and divide the soup into two bowls.

Top each bowl with sliced scallions and a soft-boiled egg.

Serve hot and enjoy your delicious and nutritious king trumpet mushroom ramen.
King Trumpet Mushroom Tacos Recipe
Looking for a quick and delicious vegetarian meal? Look no further than these king trumpet mushroom tacos. With just a few simple ingredients, you can whip up a flavorful and satisfying dinner in no time. Here's what you'll need:
Ingredients:
King trumpet mushrooms, sliced into thin strips

Chili powder

Cumin

Smoked paprika

Salt and pepper, to taste

Tortillas

Toppings of your choice (shredded lettuce, diced tomatoes, sour cream, guacamole, etc.)
Method:
Heat a bit of oil in a pan over medium-high heat.

Add the sliced mushrooms and sauté until they start to brown and crisp up a bit, about 5-7 minutes.

Add the chili powder, cumin, smoked paprika, salt, and pepper to the pan, and stir to coat the mushrooms evenly.

Reduce the heat to low and continue cooking for another 2-3 minutes, until the mushrooms are fully cooked and fragrant.

Warm up the tortillas in the microwave or on a hot pan.

Assemble the tacos by filling each tortilla with a few spoonfuls of the mushroom mixture and topping with your desired toppings. Enjoy!
Creamy King Oyster Mushroom Risotto Recipe
If you're looking for a comforting and hearty meal, this creamy king oyster mushroom risotto is perfect for you. Here's what you'll need:
Ingredients:
1 lb King Oyster Mushrooms, sliced

2 tbsp Butter

1 tbsp Olive Oil

1 Onion, finely chopped

2 cloves Garlic, minced

1 ½ cups Arborio Rice

1 cup Dry White Wine

4 cups Vegetable Broth

1 cup Grated Parmesan Cheese

Salt and Pepper, to taste

Fresh herbs for garnish
Method:
In a large skillet, melt the butter with the olive oil over medium heat. Add the sliced King Oyster Mushrooms and sauté until golden brown.

Remove the mushrooms from the skillet and set aside.

In the same skillet, sauté the chopped onion and garlic until soft.

Add the Arborio rice and stir until the rice is coated with the onion and garlic mixture.

Pour in the white wine and stir until the wine is absorbed.

Add the vegetable broth, one cup at a time, stirring continuously until each cup of broth is absorbed by the rice.

When the rice is cooked, add the sautéed mushrooms and grated Parmesan cheese, stirring until the cheese is melted and the mushrooms are heated through.

Season with salt and pepper, to taste.

Garnish with fresh herbs and serve hot.
Are you ready to experiment with a new ingredient in your cooking? King trumpet mushrooms are an excellent choice due to their versatility, unique flavor, and nutritional benefits. They are ideal for vegetarian meals, and they are easy to prepare, making them a perfect choice for busy weeknights.
The best part is that we have provided you with 5 easy and delicious recipes to get started. Whether you prefer tacos, risotto, ramen, mushroom "steaks," or scallops, there's a recipe for you to try.
So, what are you waiting for? Add king trumpet mushrooms to your grocery list and start experimenting with these recipes today! Your taste buds and your body will thank you for it.
Ready to grow your own black trumpet mushrooms at home? Visit FunGuy Grow Supply for top-quality and affordable mushroom growing kits. Cultivate your passion for nature and mycology sustainably. Shop now at www.funguygrowsupply.com.
---
References
Blumenthal, H. (n.d.). Heston Blumenthal

Chang, D. (n.d.). David Chang

Gualtiero Marchesi (n.d.)

López, E. (n.d.). Enrique Olvera

Redzepi, R. (n.d.). Rene Redzepi